Regular price
Sale price
$19.99 USD
Unit price
per
Sale
Sold out
Orders Ship By Next Business Day
Premium Quality With Guaranteed Analysis

Directly From Our Family-Owned Farm In Nevada
Click here to see your estimated arrival date
High Desert Complete Rabbit Feed - The Bunny Banquet
Product Description: Introducing the rabbit feed that's about to make your bunnies do the hop of joy! Say hello to "High Desert Complete Rabbit Feed," the culinary masterpiece that will have your furry friends savoring every nibble. This balanced rabbit feed offers more than just a meal—it's a high-fiber diet that supports digestive and immune system health while ensuring your bunnies are at their breeding best. We've even added prebiotics for digestive support and yucca extract to keep ammonia at bay.
Key Features:
Dining Delight: It's not just a meal; it's a bunny banquet! Your rabbits will hop with happiness as they dig into this delectable rabbit feed.
Health Heroes: Packed with high fiber, it's the ultimate support system for your rabbits' digestive and immune health.
Breeding Boost: For our aspiring bunny parents, this feed ensures they're in prime condition for their fluffy family's arrival.
Gut-Friendly: With added prebiotics, we're all about happy tummies and smooth digestion.
Ammonia Control: Thanks to yucca extract, say goodbye to unpleasant odors. Your bunny's space stays fresh and airy.
Product Details:
Available Size: 4 lbs - Pellet Form
Ingredients for Delight: Suncured Alfalfa Meal, Wheat Bran, Soybean Meal, Wheat Flour, Cane Molasses, Hydrolyzed Vegetable Oil, Calcium Carbonate, Salt (Sodium Chloride), Mono-Dicalcium Phosphate, Propionic Acid (a preservative), Choline Chloride, Mannan Oligosaccharides, Zinc Proteinate, Manganese Proteinate, Copper Proteinate, Cobalt Proteinate, Yucca Extract, Zinc Oxide, Manganous Oxide, Ferrous Sulfate, Vitamin A Acetate, Vitamin E (Alpha Tocopherol), Vitamin D3 Supplement, DL-Calcium Pantothenic Acid, Riboflavin Supplement, Niacin Supplement, Vitamin K (Menadione Sodium Bisulfite Complex), Thiamine Mononitrate, Pyridoxine Hydrochloride, Copper Sulfate, Ethylenediamine Dihydriodide, Vitamin B12 Supplement, Folic Acid, Sodium Selenite (Selenium).
Guaranteed Analysis:
✔ Crude Protein: Not less than 16.5%
✔ Crude Fat: Not less than 3.3%
✔ Crude Fiber: Not more than 20.6%
✔ Ash: Not more than 11.10%
✔ Calcium: Not less than 1.22%
✔ Calcium: Not more than 1.49%
✔ Phosphorus: Not less than 0.53%
✔ Sodium: Not less than 0.29%
Feeding Directions:
A complete feed for rabbits of all ages, because we believe every bunny deserves the best.
Ensure there's always a supply of clean, fresh drinking water. Happy rabbits stay hydrated!
Store in a cool, dry, well-ventilated spot, far from pesky rodents and insects.
If it's moldy, spoiled, or visited by uninvited critters, it's a no-go. Healthy bunnies only!
Why Choose High Desert Rabbit Feed?
Bunny Banquet Approved: Our feed is so delicious; your rabbits will do the happy hop with each bite.
Say Goodbye to Dust: No hay-sneezing here! Our feed is virtually dust-free for happy noses.
Nutrition Nirvana: It's like a superfood for your rabbits—healthy, tasty, and packed with all the good stuff.
Dental Delight: Helps keep those bunny teeth in tip-top shape.
Tailored for Small Pets: We've got a Ph.D. in rabbit nutrition, and we're here to serve.
Satisfaction Guaranteed: If your bunnies aren't doing the bunny dance of delight, we'll figure it out, guaranteed!
Unleash the bunny banquets! Order "High Desert Complete Rabbit Feed" now and treat your bunnies to a feast that'll have them hopping for health and happiness.
View full details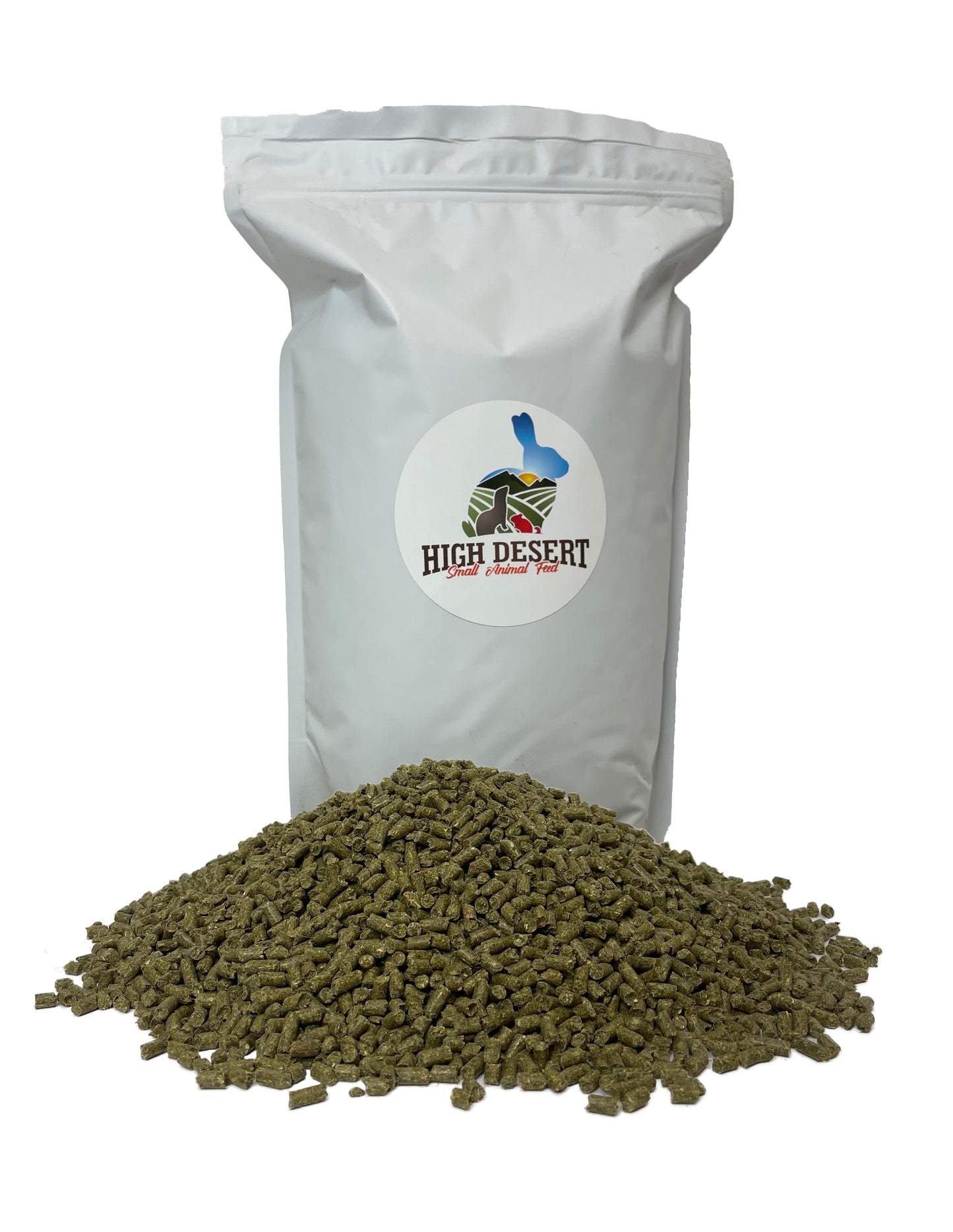 Shipment Info
SHIPS NO LATER THAN NEXT BUSINESS DAY
Complimentary ground shipping, ships from Nevada within 1 business day.
Click here to see the delivery zones and see an estimate for your delivery times