Regular price
Sale price
$19.99 USD
Unit price
per
Sale
Sold out
Orders Ship By Next Business Day
Premium Quality With Guaranteed Analysis

Directly From Our Family-Owned Farm In Nevada
Click here to see your estimated arrival date
High Desert Complete Guinea Pig Feed - Where Happiness Meets Hay
Product Description: For your guinea pigs who demand the absolute best, we present "High Desert Complete Guinea Pig Feed." It's not just food; it's a ticket to a world of guinea pig gourmet. Crafted for guinea pigs of all ages, this complete feed will have your furry friends doing the "hay-hop" of joy.
Key Features:
The Ultimate Feast: This is no ordinary feed; it's a grand guinea pig banquet! Watch your pets relish every delicious bite.
Health and Happiness: Packed with essential nutrients, it supports your guinea pigs' well-being and keeps those tails wagging.
For All Ages: Whether you have little piggies or experienced veterans, this feed is a hit at every stage of life.
Dust-Free Delight: Say goodbye to sneezy noses! Our feed is virtually dust-free for a sniffle-free snacking experience.
Hydration Hero: Always provide fresh water, because happy guinea pigs are well-hydrated guinea pigs.
Storage Ease: Keep it in a cool, dry spot, far from unwanted nibblers. We're talking to you, rodents and insects!
Quality Check: If it looks or smells funky, don't feed it. Healthy piggies only!
Product Details:
Available Sizes: Choose from two options:
Ingredients for Guinea Pig Glee: Suncured Alfalfa Meal, Ground Yellow Corn, Wheat Bran, Soybean Meal, Cane Molasses, Calcium Carbonate, Hydrolyzed Vegetable and Animal Fat, Mono-Dicalcium Phosphate, Salt (Sodium Chloride), Mannan Oligosaccharides, Vitamin C (AsPPL-ascorbyl-2-polyphosphate), Choline Chloride, Phosphoric Acid, Zinc Proteinate, Manganese Proteinate, Copper Proteinate, Cobalt Proteinate, Zinc Oxide, Manganous Oxide, Ferrous Sulfate, Propionic Acid (a preservative), Yucca Extract, Vitamin E (Alpha Tocopherol), Vitamin A Acetate, Vitamin D3 Supplement, DL-Calcium Pantothenic Acid, Riboflavin Supplement, Niacin Supplement, Vitamin K (Menadione Sodium Bisulfite Complex), Thiamine Mononitrate, Pyridoxine Hydrochloride, Copper Sulfate, Ethylenediamine Dihydriodide, Folic Acid, Vitamin B12 Supplement, Sodium Selenite (Selenium).
Guaranteed Analysis:
✔ Crude Protein: Not less than 18.0%
✔ Crude Fat: Not less than 3.5%
✔ Crude Fiber: Not more than 12.00%
Feeding Directions:
"High Desert Complete Guinea Pig Feed" is the ultimate all-ages menu for your guinea pigs.
Always keep their water fresh and abundant. Hydration is the secret to happy piggy dances.
Store this guinea pig gourmet in a cool, dry, well-ventilated place, far away from nosy rodents and sneaky insects.
Remember, if it's anything less than perfect, skip it. Healthy piggies are our priority!
Why Choose High Desert Guinea Pig Feed?
Guinea Pig Gourmet: Your piggies will devour this feed like it's a five-star meal.
Sneeze-Free Snacking: No more hay-induced sniffles. It's dust-free for happy noses.
Nutrient Nirvana: It's like a superfood for guinea pigs—delicious, nutritious, and packed with goodness.
Dental Delight: Supports those little teeth for a lifetime of crunching.
Tailored for Small Pets: We're experts in guinea pig nutrition, and it shows.
Satisfaction Guaranteed: If your piggies aren't popcorning with joy, we'll fix it, guaranteed!
Feed your guinea pigs the best—order "High Desert Complete Guinea Pig Feed" now, and watch them revel in a world of flavor and nutrition!
View full details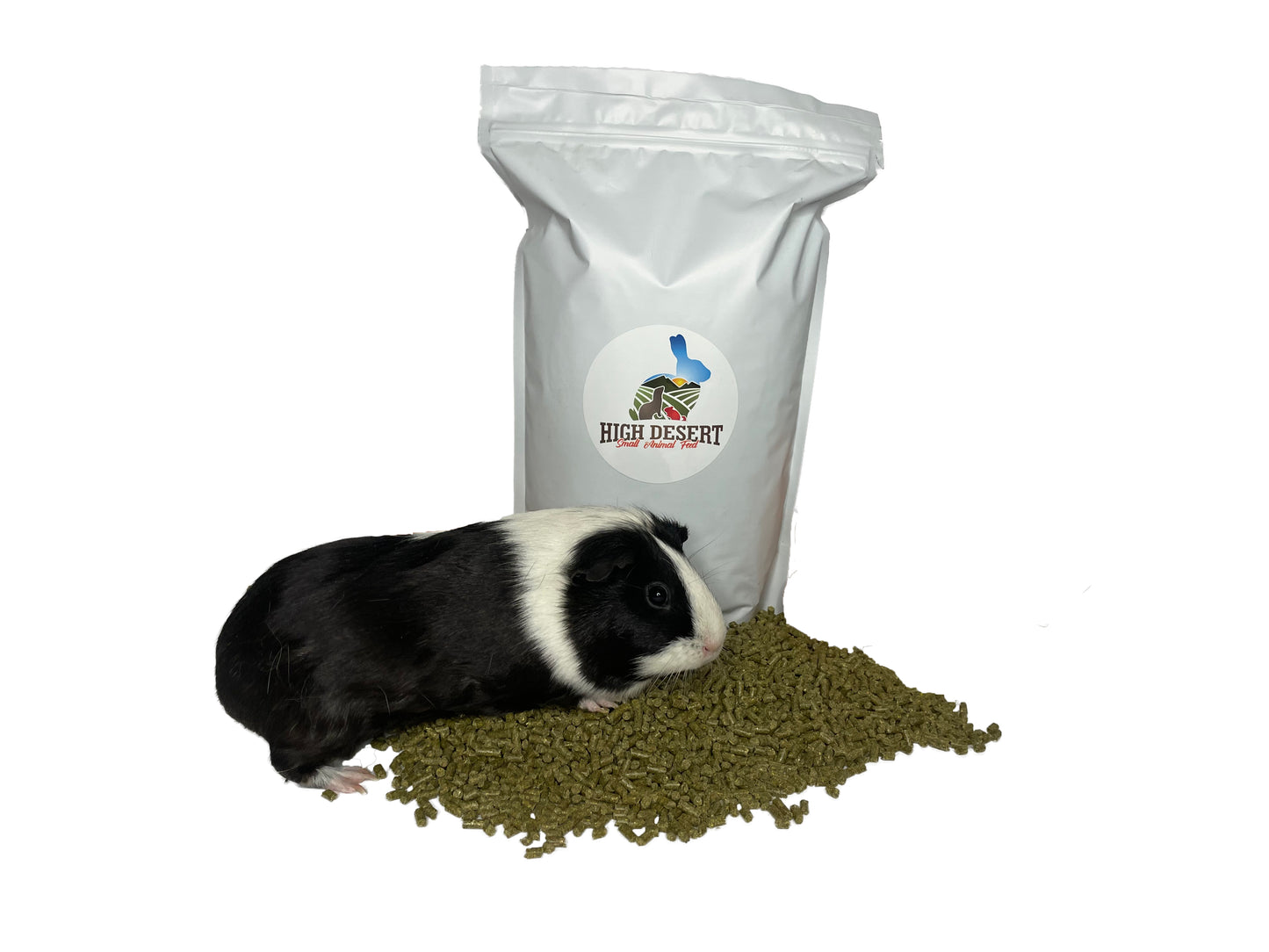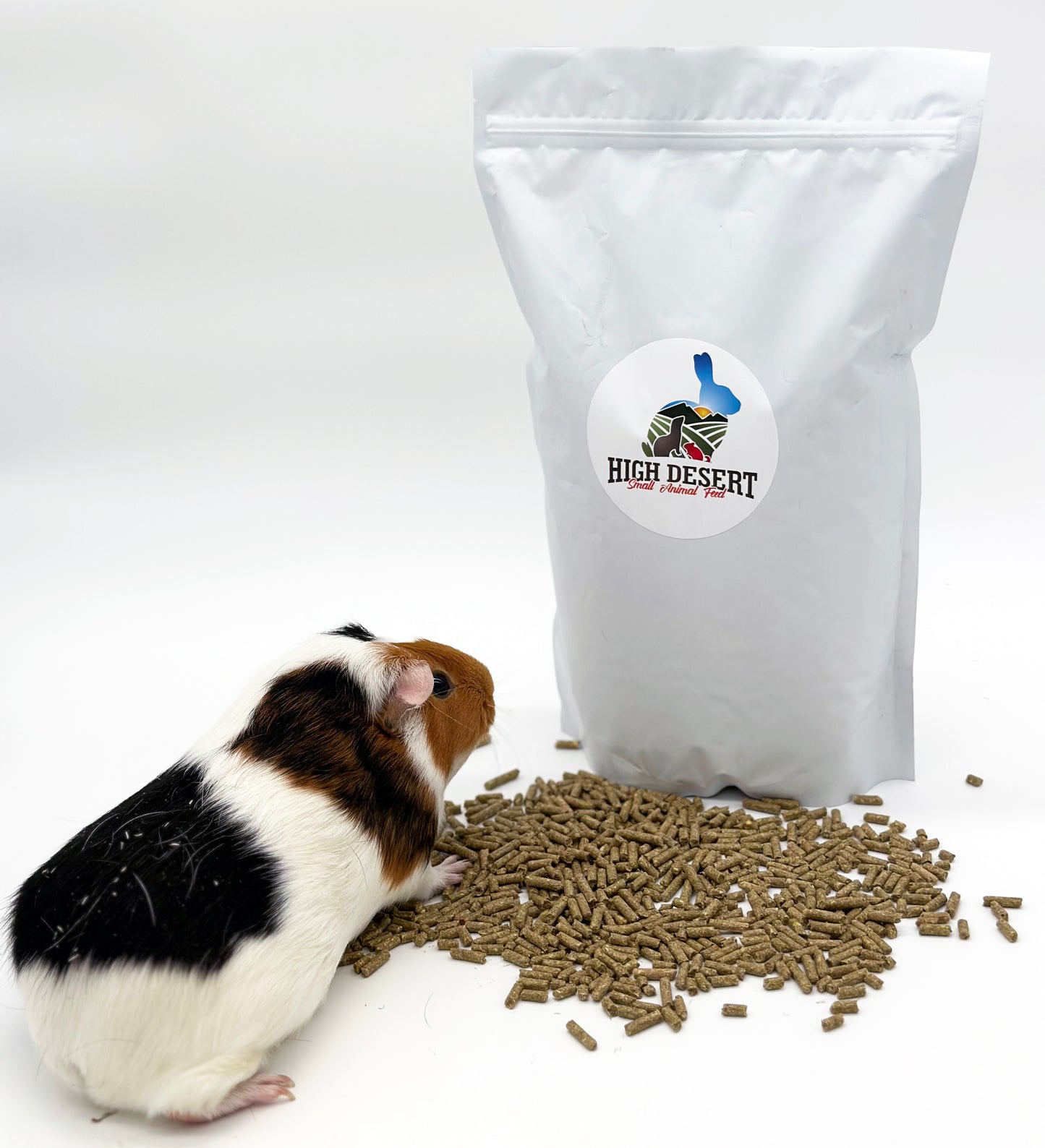 Shipment Info
SHIPS NO LATER THAN NEXT BUSINESS DAY
Complimentary ground shipping, ships from Nevada within 1 business day.
Click here to see the delivery zones and see an estimate for your delivery times