Regular price
Sale price
$12.99 USD
Unit price
per
Sale
Sold out
Orders Ship By Next Business Day
Premium Quality With Guaranteed Analysis

Directly From Our Family-Owned Farm In Nevada
Click here to see your estimated arrival date
What's in it?
100% Pure Alfalfa Goodness.
No preservatives

No additives

No artificial flavors

Just delicious, fresh, and all-natural Alfalfa Hay Pellets!
Who's it for?
We make these tasty Alfalfa Pellets for your small pets, like your little bunnies, piggies, and hamsters. It's perfect for the young ones who are growing like weeds, and even for the mommas who are nursing or expecting. And if your older pets need a little extra nutrition, our Alfalfa Pellets can help them out too!
But remember, after 7 months, it's time to move on to a more fibrous and less calorie-dense grass hay, like Timothy or Orchard Grass. Don't worry, though, our Alfalfa Pellets still make for a great occasional treat that your adult small pets will love.
Why settle for basic hay when you can have High Desert Alfalfa Pellets?
HIGH-QUALITY PREMIUM ALFALFA: Our pellets are made from premium, all-natural alfalfa, so you can rest assured that your pets are getting only the best. And let's be real, who doesn't want their furry friends to eat better than they do?
PICKY EATER APPROVED: Your pets will love them so much, they'll be begging for more like it's their own personal version of treat yo' self.
LITTLE TO NO DUST: Don't worry about dusty pellets making a mess - we've got you covered. We take controlling moisture seriously, so your pets can enjoy a mess-free feast.
BEST NUTRITION FOR YOUR GROWING PET: Our alfalfa pellets are also packed with protein, energy, and calcium, making them the perfect food for your fast-growing pets. Think of it like a protein shake, but for bunnies and guinea pigs.
AND HERE'S THE BEST PART - WE GROW THIS STUFF OURSELVES: We know everything about this hay, from seed to feed. You won't find a more hands-on approach anywhere else. The only time we're not in control is when it's in the hands of the shipping carrier!
100% SATISFACTION GUARANTEE: So, if for some reason you or your pets aren't completely satisfied with our pellets, don't hesitate to contact us. We'll make it right because we stand behind our Alfalfa Pellets 100%. And if you just want to say hello, well, we'd love to hear from you! Email george@highdesertfeeds.com or click that chat icon in the corner. We're always up for a good chat about alfalfa.

Where does our Alfalfa come from?
Well, it's not exactly a secret location, but we'll spill the beans anyway. Our Alfalfa comes straight from our family farm in Fallon, NV. We're talking 4th generation farming here, folks! We know every inch of our fields like the back of our hand, and we use that knowledge to grow the juiciest, tastiest Alfalfa for your furry friends. Our farming decisions are based on one thing and one thing only: how to make the best possible Alfalfa for your small pets. We carefully select our seeds, monitor soil moisture levels, and time our irrigation and harvesting to ensure that our Alfalfa is top quality. Plus, we pelletize and package it right on our farm, so you know it's fresh and delicious. So if you want to give your furry friends a taste of the best Alfalfa around, look no further than our family farm in Fallon, NV.
View full details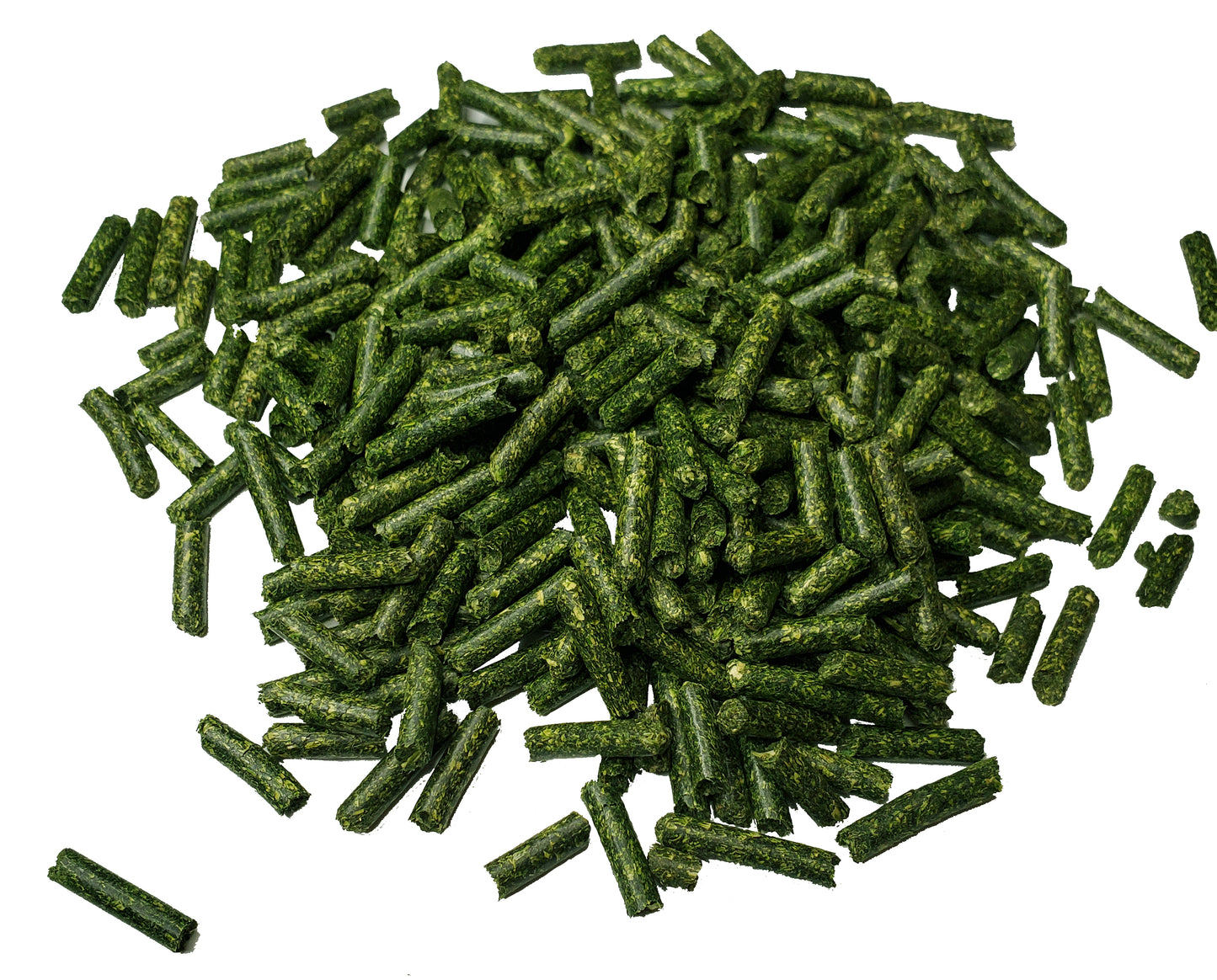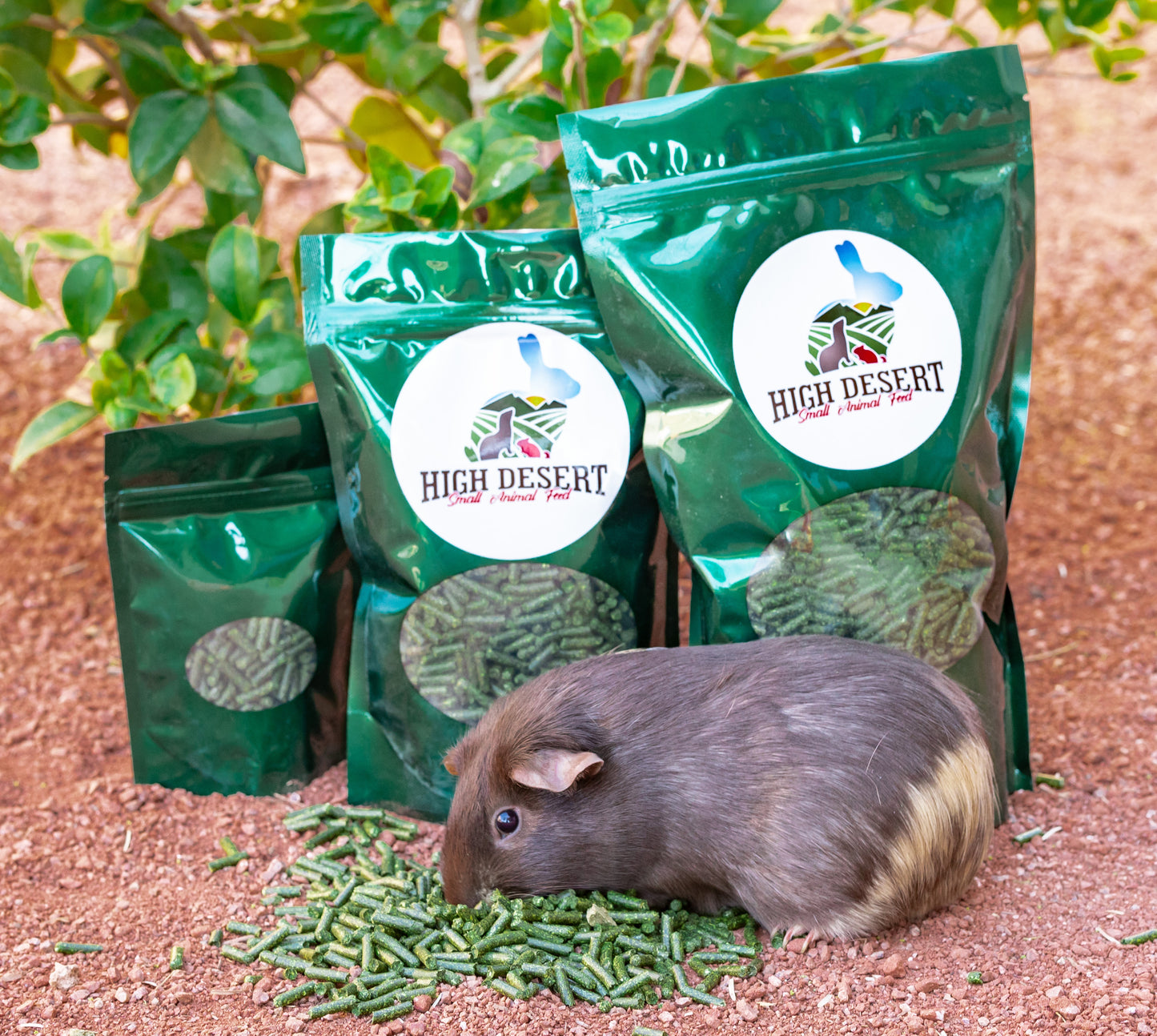 Shipment Info
SHIPS NO LATER THAN NEXT BUSINESS DAY
Complimentary ground shipping, ships from Nevada within 1 business day.
Click here to see the delivery zones and see an estimate for your delivery times